Before installing be sure to read installation instructions and warranty.
Feel free to read installation tips or download our catalog brochure. 
SPC Rigid Core can be a great floor when living with pets. Here are a few tips to help maintain your new floors. If you have an active animal in your house rugs can be a great tool to keep them from sliding across the floor on their nails. Be sure to clip your pet's nails on a regular basis. Once the nails start making a noise on the floors you know it is time to trim. When pet accidents happen get them cleaned up as soon as possible, as pet messes can be harsh and may damage the finish coating of vinyl floors. For water and feeding stations we also recommend using an elevated water station and/or a rug (see rug pad section) or to keep moisture from building up.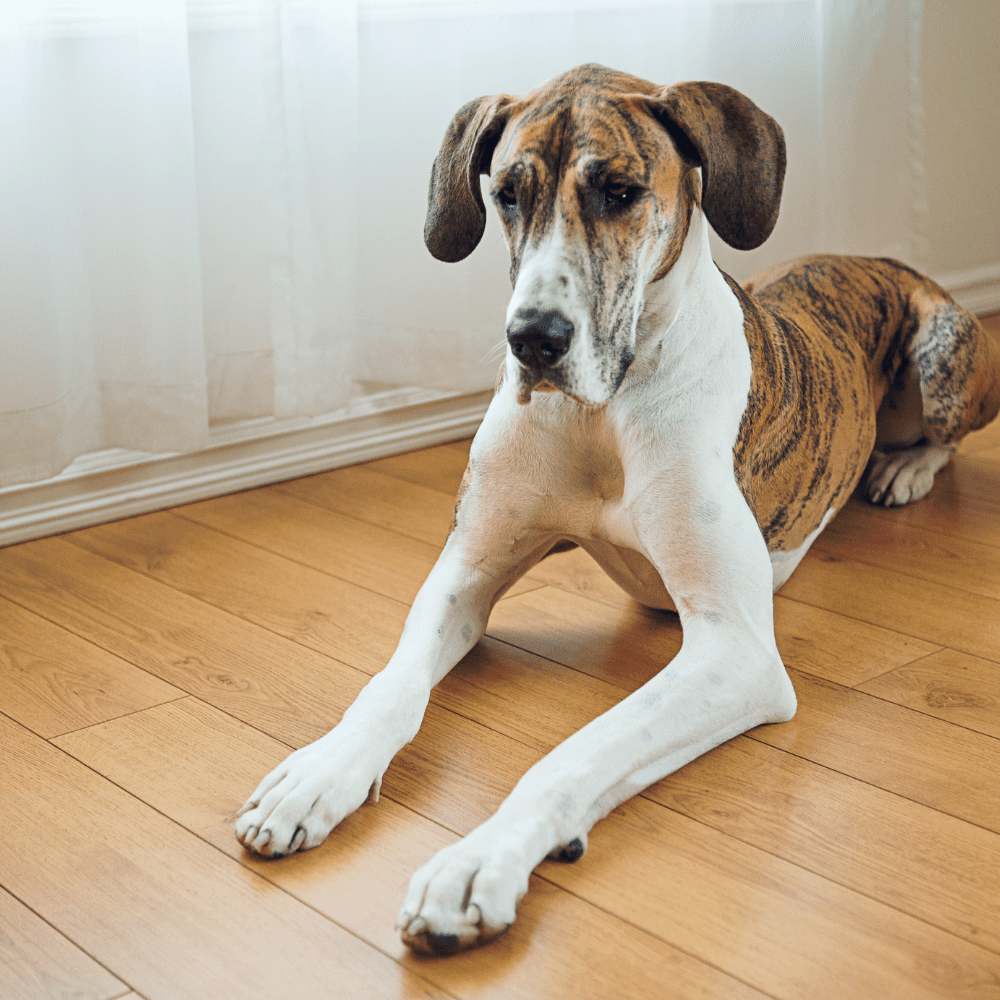 How to care for SPC flooring
Make sure to use an appropriate floor cleaner as the wrong kind can damage the finish of the floor.
The most common damage is abrasion from soil, dirt, sand, etc., which can scratch/dull the finish. It is recommended to use door mats at entrances of the house or job site, and non-staining floor protectors under furniture, chairs, tables, etc.

Be sure to clean up spills as any vinyl/SPC/WPC floors may become slippery when wet.

As Oil and/or petroleum-based products can stain vinyl surfaces do not track asphalt-driveway sealer, motor oil, wood stains, etc, on the vinyl floor.

RUG PADS AND RUG BACKING: DO NOT USE rubber backed or non-ventilated rugs. These type of rugs can trap moisture or stain the finish and can severely damage the floor. Use rugs that are made specifically for vinyl floors. Shake them out regularly. Place rugs in any area where water is in use, such as sinks or a pet's water dish.

Always apply heavy-duty felt furniture pads (at least 3/16″) to all furniture feet. No type of caster is generally acceptable for use on vinyl floors and may void your warranty.

AVOID direct sunlight, especially on hot days. The sunlight may cause the floor to fade overtime, and high heat can cause the floor to warp. It is recommended to use curtains and light colors rugs in areas where direct sunlight may affect the floor.

Over time floors may begin to lose their brilliance and require an application of floor polish. Frequency and location will depend on the traffic the floor undergoes. DO NOT wax your vinyl floors but a good quality floor polish such as "Hilway Direct" can provide up to a year of protection in high traffic areas.
Use a vacuum, dry mop, or sweep your floor at least once a week or more if needed. Do not let sand, dirt, or grit build up. It will act like sandpaper and abrade and dull the finish.

A trusted cleaner for Vinyl flooring is Bona Professional SPC Rigid Core Flooring Stone, Tile, and Laminate Cleaner. The recommended application of the cleaner is to use the Bona Micro Plus pads covered with the terry cloth cover.

The best method of removing dirt and small debris is by vacuuming with a soft brush attachment on your vacuum. Do not use a vacuums or attachments that has a heavy brush that beats or heavily impact the floor.

After vacuuming, sweeping, etc., lightly spray a mist of the Cleaner over a section of your floor or directly on the cleaning cloth. Make sure to thoroughly clean the floor and dry when necessary. When you have finished one area you can move on to the next and keep on going until finished. Make sure to clean your cleaning cloth. If the cloth begins to carry grime, dirt, grit, etc., this can damage and streak the floor. Excessively soiled cleaning cloths will cause streaking and can abrade the floor.

DO NOT USE any type of wood floor polish or other wax treatments as the harsh chemical can damage your floor.